Any other Pinterest addicts out there? I don't know if I have quite reached addict stage yet (yet!) but I really enjoy checking out all the latest pins from my friends and family. Who would have thought that a website that is just pictures could be so fun and so inspiring! You have to be a little bit careful though, especially when it comes to trying recipes. I once saw a pin for "edible glitter", that when you clicked through to the original website, it was actually a recipe for non-toxic glitter - made from salt! Ack!
I have had a few success stories though. Most recently I tried
this
: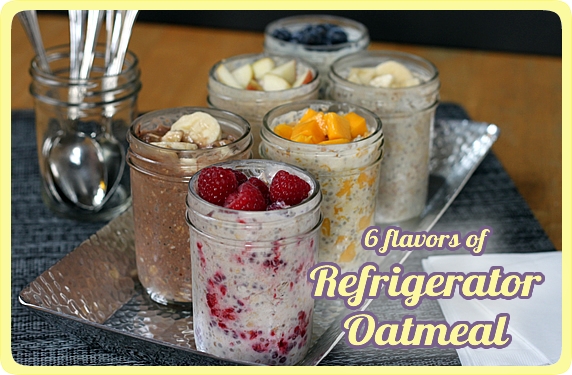 What is refrigerator oatmeal? Personally, I would call this more of a muesli. The end result is YUM-E! I have three growing children, two of which are tween girls that are eating me out of house and home. We've kind of been a cold cereal family. I grew up eating cold cereal, I like cold cereal, my family likes cold cereal, and cold cereal (if you get the good stuff) can be fairly healthy. It's darned expensive though, especially when your family is eating two bowls of the stuff. These really are as yummy as they look, and fairly inexpensive to make - especially if you make your own yogurt, which I do. The only suggestion that I would make, is if you try the Banana Cocoa version, I would use (maybe) 1 tsp of cocoa instead of the 1 tbsp. I think my favorite is the blueberry maple. My family likes them too. Well, except for maybe my husband. He thinks I'm trying to kill him when I make anything healthy for him. I think the chia seeds were a little too much for him to think about...